Download our 2017 Midyear Outlook for an in-depth look at how economic momentum is building across the globe amid political uncertainty. Highlighted below are some of the key insights from our Midyear Outlook.
The U.S. Is Firing on More Cylinders
The U.S. recovery has inched along at a lackluster pace for more than seven years, largely due to consumer-related sectors of the economy. But the recovery is now broadening out with greater participation from business- and industrial-focused areas. While valuations are stretched in many areas of the market, there are still opportunities to own companies with strong top-line growth at reasonable prices.
Built to Go the Distance: U.S. Manufacturing, Capital Spending and Earnings Are All Strengthening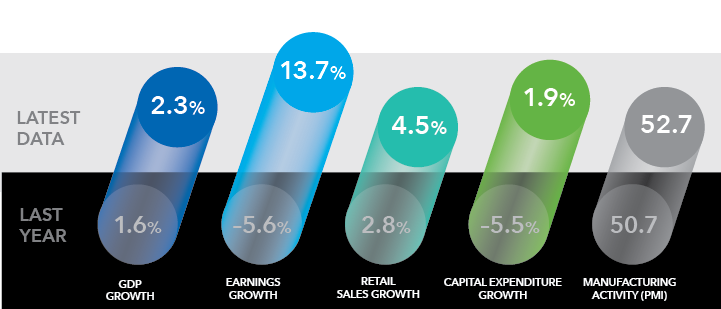 Sources: U.S. Bureau of Economic Analysis, U.S. Bureau of Labor Statistics, FactSet, International Monetary Fund, Thomson Reuters. GDP is the actual 2016 and estimated 2017 GDP growth, as reported by the IMF. Earnings growth is year-over-year S&P 500 earnings growth in 1Q16 and 1Q17, as reported by FactSet. Retail sales is year-over-year change on 4/30/16 and 4/30/17. Capital expenditure growth is the year-over-year growth of U.S. manufacturing non-defense shipments, excluding aircrafts, on 4/30/16 and 4/30/17. Manufacturing PMI is the manufacturing component of the 5/31/16 and 5/31/17 PMI reports.
International Equities Look More Attractive
Threats to world trade and geopolitical stability are diminishing, which better positions international equities after years of falling behind those of the U.S. France's May 7 presidential election, in which a populist, anti-European Union candidate was beaten by centrist, pro-trade leader Emmanuel Macron, was a referendum on the future of Europe. European equity valuations are appealing, especially compared with U.S. stocks. Meanwhile, leading companies in Europe and Japan have managed to succeed on a global basis as they go where the growth is. Shares of non-U.S. companies with significant exposure to the U.S. economy have done notably well. Select companies in Europe and Japan could get additional benefits if consumer spending and manufacturing activity picks up in their home markets.
The Divergence in Returns Shows That Investing in Companies Is Not the Same as Investing in Economies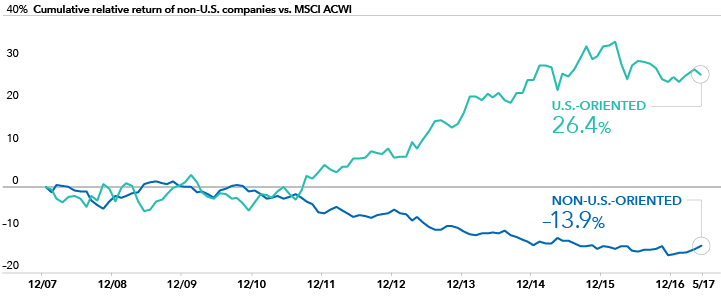 Sources: Capital Group, FactSet, MSCI. Data represents cumulative relative returns of each category of non-U.S. companies to the MSCI ACWI since 12/31/07. "U.S.-oriented" includes all companies that generate over 40% of their revenues in the U.S. "Non-U.S.-oriented" includes all companies that generate less than 40% of their revenues in the U.S. Non-U.S. companies also exclude Canada. Returns are in USD as of 5/31/17.
There May Be Room to Run in Emerging Markets
Emerging market equities have surged nearly 50% since a trough in early 2016, thanks to stimulus in China, strong demand for a variety of commodities and a more stable U.S. dollar. But there could still be room for additional gains, especially in Brazil and China, which look like relative bargains compared with the U.S. In addition to the valuation advantage in emerging markets, corporate earnings in those regions are picking up too. Earnings for companies in emerging markets are expected to rise 21% in 2017. If that growth is achieved, it would be the best showing since 2010.
Emerging Markets Have Soared Since January 2016, but Valuations Remain Relatively Attractive
Sources: FactSet; International Monetary Fund, World Economic Outlook Database, April 2017; MSCI; RIMES. Relative Valuation compares the forward 12-month price-earnings ratio of the MSCI World and MSCI Emerging Markets indexes as of 5/31/17. Estimated EPS Growth is as of 5/14/17. Total Return is from 1/21/16-5/31/17. GDP Growth is the estimated 2017 GDP Growth, as reported by the IMF.
U.S. Rates Are Rising, but Look Poised to Remain Relatively Low
The U.S. Federal Reserve has been following through on its effort to move short-term interest rates higher. Brighter growth expectations in the U.S. and internationally have pushed yields higher as well. But yields are likely to remain in a relatively low range. Policy proposals to spur growth could be more modest and take longer to materialize than some market participants are expecting. Meanwhile, demand for bonds remains strong from global and U.S. investors as yields in other developed countries are much lower than what's found domestically. Given the volatility in the equity market, bonds continue to offer important diversification for portfolios as well.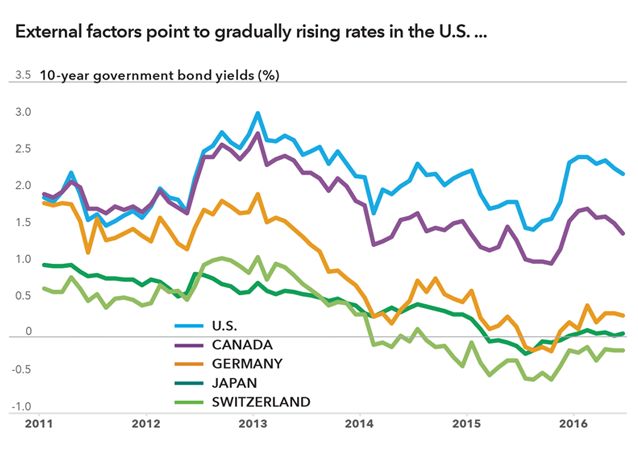 Thomson Reuters. As of 5/31/17. Table calculations assume 5-year duration bonds, which would incur 5% capital losses for every 1% that rates rise.
Get the Whole Story
Read our 2017 Midyear Outlook to learn more about the challenges and opportunities ahead for investors in a brightening global economy.