For nearly 90 years, our mission has been to improve people's lives through successful investing. We believe that considering environmental, social and governance (ESG) issues can lead to better long-term results for investors.
A fully integrated approach
At Capital Group, ESG analysis is deeply woven into The Capital SystemTM and factors into our fundamental research, due diligence and engagement. We believe our approach can help you achieve better results over time.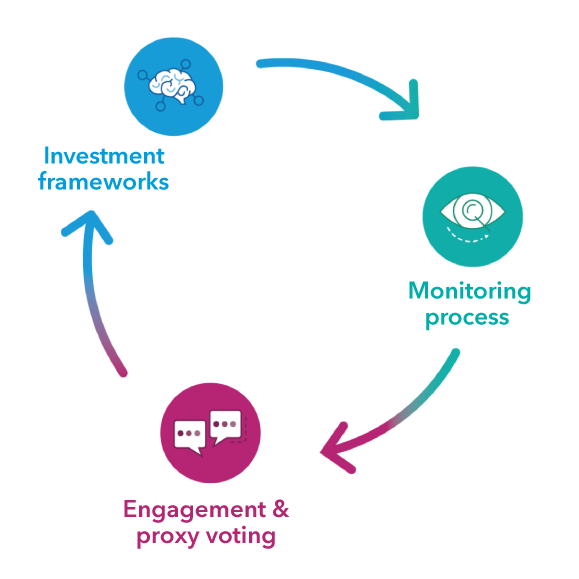 How it works
We designed our ESG approach to identify the issues that can matter most to investors. It is built on three tightly woven parts: our own investment frameworks, multi-layered monitoring and ongoing engagement with companies. Each element reinforces the others, which makes the system smarter over time.

Investment frameworks
Analysts identify issues that are material to each sector.
| | | |
| --- | --- | --- |
| 30+ | 200+ | 14 |
| Sector frameworks | Investment analysts | Years of experience |
Data as of December 31, 2020.
We look beyond third-party data and spend thousands of hours on our own research. With an average 14 years of experience, our analysts understand the challenges of each industry they cover. They know the right questions to ask. Our sector-specific research frameworks focus on the most important ESG issues when evaluating a potential investment.

Monitoring process
We screen all investments for key ESG considerations.
We use industry-leading third-party information, but that's just the start. To decide which investments raise potential ESG issues, we apply widely accepted third-party standards and then expand with our own deep research.
The breadth and depth of our on-the-ground research coverage mean we don't always agree with conventional ratings.
Our monitoring process has four steps.

STEP 1
ESG data aggregation
One database combines our own ESG research and third-party ratings.
STEP 2
Risk identification and flagging
Our system flags key ESG issues based on our sector-specific research frameworks, as well as third-party data and standards.
STEP 3
Evaluation and documentation
Flagged holdings require enhanced research and review. Insights and engagement are recorded.

STEP 4
Escalation and review
Analysts decide if the investment meets our standards or requires further action.

Engagement & proxy voting
We believe engaging with companies and issuers can have a greater effect on the world than excluding them.
Our long-standing relationships with companies often enable us to influence their policies, which gives us an opportunity to positively shape and lead industry standards. We've seen engagement work and believe it's more effective than simply choosing not to invest. As a large active asset manager, we can adjust our investment decisions based on our findings.
We engage with companies to seek better long-term outcomes
20,000+
annual meetings
can provide powerful leverage with company management
For calendar year 2020
1,800+
shareholder meetings
keep us actively engaged and influential on behalf of our investors.
For fiscal year 2020
17
GAP specialists
dedicated to Governance and Proxy (GAP) issues. In 2020, our GAP specialists had ESG engagements with more than 400 companies.
Data Source Capital Group, as of DECEMBER 31, 2020
Commissions, trailing commissions, management fees and expenses all may be associated with mutual fund investments. Please read the prospectus before investing. Mutual funds are not guaranteed, their values change frequently and past performance may not be repeated.
Capital Group funds in Canada are managed by Capital International Asset Management (Canada), Inc., part of The Capital Group Companies, Inc., a global investment management firm originated in Los Angeles, California in 1931. Capital Group manages equity assets through three investment groups. These groups make investment and proxy voting decisions independently. Fixed income investment professionals provide fixed income research and investment management across the Capital organization; however, for securities with equity characteristics, they act solely on behalf of one of the three equity investment groups.
Unless otherwise noted, all above references to Capital Group refer to the global organization.
All Capital Group trademarks are owned by The Capital Group Companies, Inc. or an affiliated company in Canada, the U.S. and other countries. Capital Group funds offered on this website are available only to Canadian residents.