Strategies For Uncovering Your True Purpose in Life
While growing up on the East Coast, Adam Braun long believed that the pursuit of wealth was the key to happiness. In chasing this dream, he started some small businesses as a kid and even did an internship at a hedge fund in his teens. But a near-death experience changed his outlook on life, and caused him to rethink his priorities.
Ultimately, he decided to start an organization called Pencils of Promise, which helps to build schools and train teachers around the world. Along the way, Braun made it his mission to help others find their true calling in life, and he has compiled some strategies for doing so in his New York Times bestselling book, The Promise of a Pencil: How an Ordinary Person Can Create Extraordinary Change. Here, Braun shares his story along with a few of his mantras for finding one's higher calling.
As a kid, you had your heart set on making a lot of money. What led to changing your career path to one of philanthropy?
When I was young, I had this belief that money could buy happiness. Then, when I was 21, I went out on the Semester at Sea program, which is a cruise ship that circles the world while giving students a chance to visit 10 different countries. At one point, our ship was struck by a 60-foot rogue wave, which hit us head-on, knocked out the engines and made it impossible to steer. I was overcome by this near-death experience that forced me to reprioritize pretty much every part of my life and evaluate what was motivating me. The biggest thing I came away with was I wanted my life to matter and to do things of significance. The most accessible way to create a life of significance is through contribution to others.
Yet you initially decided to get into business after college by going to work at Bain & Company.
I went to Bain for two reasons. First, back then I had this idea that if I could create a lot of personal wealth, I could use it to impact causes I cared about most. I also felt that Bain was the best possible training ground to learn how to build a great company in the future.
How did the idea to start Pencils of Promise come about?
Bain has an externship program where you can leave for six to nine months to work on another project. My grandmother was turning 80. She was a Holocaust survivor, and I wanted to ensure her legacy would carry on. The most powerful way I could think to do that was by building a school and dedicating it in her honor. That was really the start of the organization, which I seeded with just $25. I did go back to Bain after that, but I was constantly working on Pencils of Promise and wound up leaving four months later, in early 2010.
You've since helped to build more than 250 schools around the world.
Yes, we started in Southeast Asia and now are focused on Laos, Ghana and Guatemala. We essentially contribute around $25,000 and work with local governments to build the schools. We view it as a co-investment with the communities. We help buy the materials, and they provide the labor to build the schools. They then continue to run them, though we provide ongoing oversight.
What brought about this passion for building schools?
I've always recognized the power of education. It was instilled in me from an early age. During my Semester at Sea program, I had a habit of asking one child in each country I visited a simple question: if you could have anything in the world, what would it be? A kid in India answered that he wanted a pencil. At that moment, I realized he had never been to school before.
You call Pencils of Promise a "for purpose" organization. What's the difference between that and a nonprofit?
We are a 501(c)(3) nonprofit, but I think that phrase does a huge disservice to the industry. This is the only industry that introduces itself with the word "non." Why start by saying what you don't do? We're not about not profiting; we're about increasing the sense of meaning, purpose and opportunities in the lives of others. I wanted to start an organization with the heart of a great nonprofit but that really held itself accountable like a for-profit company and was driven by results, data and outcomes.
What are some lessons other nonprofits can learn from how you run your organization?
We actually use a number of principles I picked up at Bain. I think nonprofits need to focus on creating transformational relationships with their donor base, while ensuring a high-quality social return on investment. I really believe any successful relationship requires a two-way value exchange, by understanding what's meaningful to your donors. We've built the organization largely by using modern marketing channels. We don't spend much on advertising, and never buy mailing lists to send out solicitations. We engage through social and digital media. This leads to more-authentic engagement and has really driven a lot of our fast growth. We also create experiences for donors. For instance, if someone helps to raise $25,000 to build a school, we'll take them on a trip to see the work being done on the ground.
Your book has a lot of advice to help others find their true purpose in life. What is the first step?
The most important thing, in my opinion, is to be willing to get out of your comfort zone. That's when you are able to start identifying who you really are. It might involve going on a trip, getting out of a stagnant relationship, switching jobs, moving cities or taking up a new hobby. You might want to get into ballroom dancing or join a local recreation league for a sport that you used to love but aren't connected to anymore. Find some way to break the routine of your standard way of life. Once you get out of your comfort zone, you will start to really figure out what makes you come alive.
One of your admonitions is "stay guided by your values, not your necessities."
The reason is that values are enduring and necessities are transient. I like to say that all final decisions are made in a state of mind that will not last. Every "final decision" you make about a situation is eventually going to change. But once they're instilled in you, values stay forever.
Does that mean you should act on your gut instincts when making decisions?
The guiding mantra on this for me is "make the little decisions with your head and the big ones with your heart." Anyone who knows me will say that I'm extremely calculating. I research every purchase before I make it. But when I need to be decisive, I'm extremely decisive. When it comes to major decisions, such as, "Is this the person I should marry" or "Should I leave this job," you often have the answer in your heart or gut, and that's what you should be following.
What's the biggest mistake people make when trying to determine their life's purpose?
I think the biggest mistake is assuming something has to be perfect to get started. People have this idea that if all the pieces aren't in place right now, it's not going to work out. They're paralyzed by fear. The truth is, anything is going to be messy at the start. All the answers won't be there. If someone said to me back in 2008 that I would have to raise more than $20 million over the next six years to build over 250 schools in seven different countries, I would have been frozen by the fear of how I could ever do that with the meager resources at my disposal. But I started small and took incremental steps forward. That's what will lead you to the extraordinary place you hope to be years from now.
Any other advice for those trying to discover their personal big idea?
Try to surround yourself with those who make you better. I don't think most people realize how strong the power of relativity can be. Be relentless about ensuring that the people in your life are really great and can help you grow. Then find a way to help them in return.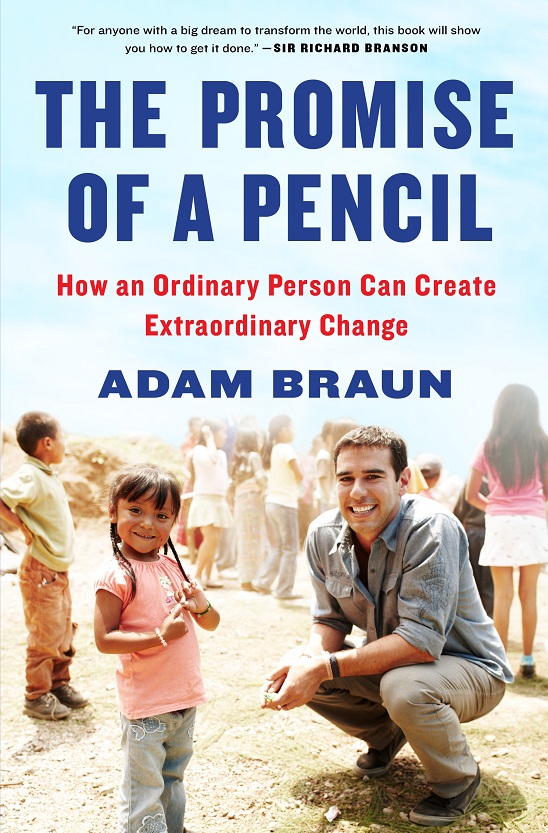 The views expressed herein are those of the author and do not necessarily reflect the views of everyone at Capital Group Private Client Services. The thoughts expressed herein are current as of the publication date, are based upon sources believed to be reliable, are subject to change at any time and should not be construed as advice. There is no guarantee that any projection, forecast or opinion will be realized. Past results are no guarantee of future results. This material is provided for informational purposes only and does not take into account your particular investment objectives, financial situation or needs. You should discuss your individual circumstances with an Investment Counselor.