ESG
Can investors help bridge the digital divide?
KEY TAKEAWAYS
Up to 79 million Americans, especially in low-income households, lack a broadband subscription.
Internet access is key to work, education, finances and health care.
Broadband providers can support equitable economic development - and earn a compelling return - by connecting unserved and underserved customers, especially in rural areas.
Access to high-speed internet is crucial to social and economic health
Fast and affordable internet service has become a critical component to working, studying, accessing health care and participating in the political process - both in the US and across the globe. In 2016, the United Nations went so far as to declare internet access to be a fundamental human right.1 Access to high-speed internet is crucial to social and economic health and is fundamental to achieving numerous UN Sustainable Development Goals (SDGs).
Capital Group's proprietary Environmental, Social and Governance (ESG) investment framework for broadband providers recognizes the importance of this issue. Analysts systematically consider how company management teams approach society's digital divide. While it's been a longstanding issue, COVID-19 brought the digital divide into sharp focus. The acceleration of digitalization in all parts of daily life and the degree of inequity for those without reliable access to the internet pushed the digital divide higher on the agenda for policymakers. It also increased scrutiny of companies for any perceived failure to connect people.
Before the pandemic, the social and economic consequences of the rural broadband gap and digital divide had been conservatively estimated at $55 billion per year in the U.S. alone..2 The costs included lower workforce productivity, labor exclusion, lower educational attainment rates, higher health care costs, higher energy costs (reduced efficiency gains), less access to personal finance management and overall decreased economic resilience.
In the U.S., there is a financial opportunity for broadband providers to earn a compelling return, supported in part by new federal subsidies, by connecting unserved and underserved customers. To be successful, companies need to address a combination of accessibility, affordability and digital literacy. Getting this right could support equitable economic development, especially in rural areas, acting as a tailwind for essential industries like telehealth, education, agriculture, real estate and financial services. It could also provide direct economic advantages for companies that address the issue effectively, as there are likely to be indirect benefits through a lower risk of regulatory intervention.
How many people in the U.S. lack access to broadband?
Understanding who is or is not connected is nearly impossible. A simple snapshot of households connected to the internet relies on incomplete data and misses aspects such as affordability, customer willingness, literacy, digital literacy and access to a computer.
The Federal Communications Commission (FCC) conservatively estimates that 21 million Americans do not have access to broadband. An independent review suggests that number is actually double — closer to 42 million Americans. An even higher number of people report that they are not using broadband. In 2019, the American Consumer Survey reported approximately 79 million Americans do not use a fixed broadband subscription. 4
The FCC is reforming its data collection process and is likely to disclose higher numbers of Americans without broadband access in 2022. If a significantly higher number is confirmed, it could prompt additional federal subsidies and/or additional private investment in network build-outs from improved economies of scale. A higher number is also likely to increase the scrutiny on what companies are doing about this issue.
The case for equal access
While we may not know exact numbers, we do know that Black/African American, Latinx/Hispanic and low-income households face the widest gaps in broadband usage. 5 Data collected by the U.S. Census Bureau reveal surprising levels of unequal access to broadband. In 2018, 22% of low-income households reported not having broadband access. Approximately 39% of Black/African American households reported not having "personal broadband access" — meaning no internet connection or only mobile or dial-up connections. A cellular data plan generally is not sufficient for working and studying, particularly in larger households.
Self-reported internet access among U.S. households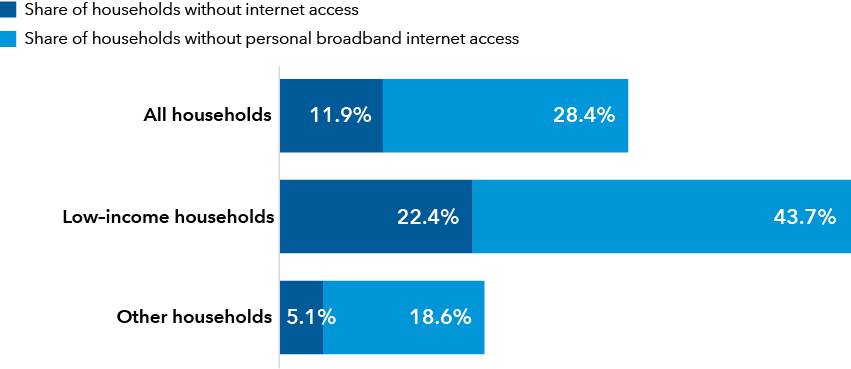 Note: HUD low-income levels vary by region. In Iowa, low-income is $57,250 for a 3-person family. Source: New American Economy, American Community Survey (U.S. Census Bureau 2019)
Broadband internet access among U.S. households
Share of households without personal broadband internet access
Note: Personal broadband access means no internet connection or accessing the internet only by cellphone or dial-up. Source: New American Economy, American Community Survey (U.S. Census Bureau 2019)
Current and future levels of federal subsidies and support
There is bipartisan support to improve broadband access in the U.S., but the full cost and source of funding are debated. Potential new policies and support include government subsidies for last-mile infrastructure, payment credits/subsidies for low-income families and regulation to increase market competition.
Federal funding for broadband has been increasing, most recently through the Rural Digital Opportunity Fund (RDOF; $20.4 billion over 10 years).

The Rural Digital Opportunity Fund (RDOF) was introduced by the FCC in 2020 as the primary tool for increasing access to broadband through new infrastructure. It is designed to incentivize greater competition and higher speeds for rural customers.
The government also subsidizes low-income customers to help ensure that affordability isn't a barrier to broadband adoption. In May 2021, the FCC approved a $3.2 billion Emergency Broadband Benefit Program (EBBP), which is intended to help low-income households pay for broadband service and connected devices.
There is potential for even larger government subsidies. The Biden administration's proposed American Jobs Plan calls for $100 billion in federal support to completely close the broadband gap. 11 That is five times the amount of current subsidy levels. A bipartisan infrastructure plan passed in the U.S. Senate — a negotiated version of President Biden's American Jobs Plan — earmarked slightly less: $65 billion.12 While the exact amount of future subsidies once passed is unknown, these proposals suggest the amount could be significantly higher than current levels and act as an important tailwind for the industry.
Can broadband providers be a sustainable business?
We have built our own models examining capital expenditure, the number of expected new subscribers, and available subsidies for broadband providers to seek companies that can sustainably connect unserved customers. We found that the outcome is dependent on location, technology and grant awards, and supports a case-by-case assessment.
Charter is a useful case study due to its high involvement in RDOF and its transparency on planned capital expenditure on new, rural build outs.13
Case Study: Charter Communications
Charter was awarded the highest number of new connections in RDOF Phase I and announced its investment plan in February. The company plans to reach more than 1 million unserved/underserved customers.14
Charter's planned rural expansion includes
Investing $5 billion to expand rural broadband connectivity
Receiving $1.2 billion in subsidies from RDOF
Adding more than 1 million new customer locations
Hiring more than 2,000 employees and contractors
Covering 24 states
Offering 1 Gbps speeds
Including Spectrum voice, TV and mobile services in coverage
According to the company, the investment will allow them to grow their business by further taking advantage of the efficiencies of the scale and quality of the network and construction capabilities. The company also expects to benefit from high penetration rates, or a high percentage of the population subscribing to their service.
How broadband providers are addressing the digital divide
This is not a new issue for broadband providers. Most providers offer low-income pricing plans to help with affordability, and most support digital literacy with philanthropic donations. Charter is among the most active companies working to increase access through new infrastructure builds. Verizon is committed to improving digital literacy, particularly its work with school-age children.
Broadband providers worked to ensure continuity of service during the pandemic.
The COVID-19 pandemic put a spotlight on the inequity of broadband access and how the industry is addressing the challenge. In the U.S., for instance, the broadband industry saw several successes:
Millions of new customers were connected.
There were no major network outages as many people transitioned to working from home.
Millions of customers were able to easily boost speeds to their home tenfold without connectivity issues.
Customers who were unable to pay were not dropped.
Broadband providers, in partnership with local schools, worked together to provide thousands of COVID-safe sites with free Wi-Fi.
When companies fail to connect unserved or underserved customers
From a regulatory perspective, the FCC has been criticized for not significantly penalizing or even tracking companies that fail to deliver on the connection rates stated in bids. Companies with a track record of failed promises are being questioned by senators about their eligibility for RDOF subsidies.
Companies may also face reputational risk directly with customers. While rural customers may not have a choice in their broadband provider, unsatisfied customers may be less likely to bundle additional services such as voice and TV subscriptions, which would hurt long-term investment returns. In urban areas where choice exists, service quality, pricing and consumer trust can all influence user growth and retention rates.
The importance of company assessment and engagement
Efforts to close the rural broadband gap are not well reported by companies. Our analysts have ongoing conversations with company management about the realistic opportunity to connect new homes, confront major hurdles, and promote desired policy support. We are paying close attention to how companies approach the digital divide and how their actions promote more equitable access. This is important, now more than ever, due to both the urgency of the issue and the size of the potential opportunity.
What does best in class look like?
1. Reforming data collection, increasing accuracy and transparency
Broadband providers have a role to play (in conjunction with the FCC) in improving data quality and transparency on who is and is not connected.
Depending on location, there may be better economies of scale for new build-up than has been previously understood because of a higher number of unserved and underserved customers.
2. Improving digital literacy
The benefits of full broadband connection and increased customer usage are dependent on digital literacy.
Broadband providers, along with companies involved in industries such as telehealth, agriculture, education, financial services and real estate, can all contribute to increasing digital education and literacy as part of building brand awareness and strengthening community relations.
3. Advancing outreach to low-income consumers who qualify for subsidies
A surprising number of consumers report broadband pricing as a major barrier to adoption, even though government subsidies and reduced-price plans are available.
Companies can promote and simplify signing up to government subsidies for internet service, which will reduce pricing as a barrier to adoption.
Capital Group's ESG investment framework for telecom and cable sectors covers specific issues in all three categories: environmental, social and governance. The example below illustrates how our analysts evaluate a company's approach to just one of these: internet access and affordability. Assessing companies against this framework requires knowledge of and engagement with the company as disclosure in this area is mixed.
ESG investment framework: Telecommunication services

Published on September 21, 2021
1 UN Human Rights Council. "Oral Revisions of 30 June." June 27, 2016.
2 Greg Goldman, Lee Huang. "FCC Reports Broadband Unavailable to 21.3 Million Americans, BroadbandNow Study Indicates 42 Million Do Not Have Access." BroadbandNow Research, March 8, 2010.
3 John Busby, Julia Tanberk, et al. "FCC Reports Broadband Unavailable to 21.3 Million Americans, BroadbandNow Study Indicates 42 Million Do Not Have Access." BroadbandNow Research. Updated May 11, 2021.
4 United States Census Bureau. "Types of Computers and Internet Subscriptions." American Community Survey, 2019. Figure was calculated by assessing number of households (without an internet subscription, with a cellular data plan only, and dial-up only); adjusted for total people using data from average size of U.S. household in 2019.
5 New American Economy Research Fund, "Back to School: A Look at the Internet Access Gap," August 6, 2020
6 FCC. "Connect America Fund Phase II FAQs." Updated December 30, 2019.
7 FCC. "Rural Digital Opportunity Fund Phase I Results." December 7, 2020.
8 "Auction 904: Rural Digital Opportunity Fund." Fact Sheet. Accessed September 10, 2021.
9 FCC. "Emergency Broadband Benefit Program." Updated September 9, 2021.
10 The White House, "Fact Sheet: The American Jobs Plan." March 31, 2021.
11 The White House, "Fact Sheet: The American Jobs Plan." March 31, 2021.
12 Andrew Duehran. "Senate Passes Bipartisan Infrastructure Bill." The Wall Street Journal, updated August 10, 2021.
13 Charter Communications. "Charter Communications Launches New Multiyear, Multibillion-Dollar Initiative to Expand Broadband Availability to Over 1 Million New Customer Locations." PRNewswire, February 1, 2021.
14 CCO Holdings, LLC Annual Report, as of December 31, 2020.