SUSTAINABLE INCOME | MUNIS | APRIL 2015

Muni Bonds May Offer Better Values Than Some Taxable Alternatives
Given potential tax advantages, some muni yields appear relatively attractive
Ratio of Before-Tax Muni Yields to Corporate and Treasury Yields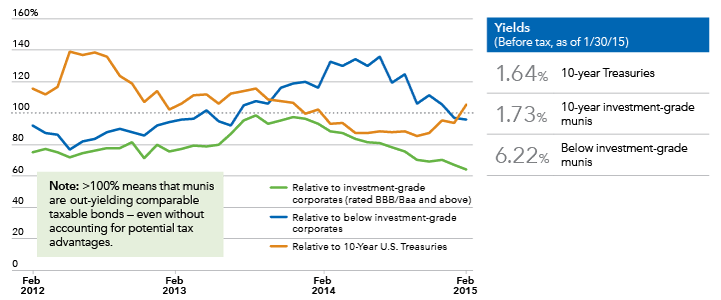 ---

In early 2015, valuations looked compelling among high-yield munis. Ratios are a useful measure of relative value — expressing in percentage terms the relative "size" of before-tax muni yields compared to similarly rated corporates or Treasuries.
Depending on an investor's net tax burden, investment-grade munis have recently offered after-tax yields that are comparable to those of similarly rated corporate bonds. Meanwhile, muni yields have appeared especially attractive relative to Treasuries.
Despite a brisk start to the year, the pace of issuance is expected to slow in 2015, which should offer a measure of support to muni bond prices — even if Treasury yields rise meaningfully. And, compared to Treasuries, the value of munis have often held up relatively well around times of rising yields.

After a lengthy rally in the municipal market, prices for many types of bonds have risen substantially. But thorough credit research can continue to uncover long-term value among the universe of revenue bonds supporting essential projects, such as hospitals, toll roads and airports.