"The most powerful force in the universe is compound interest."
— Albert Einstein

The Star Wars movie series has spanned decades, with the first film being released more than 35 years ago. If you had invested $10,000 in AMCAP Fund in 1977, the year the original Star Wars premiered, you could have accumulated more than $1.1 million by December 31, 2015, with the power of active management and compounding.
Compounding means you're earning investment returns on your investment returns. The longer your investment horizon, the more time your investments have to apply what Einstein called the most powerful force in the universe.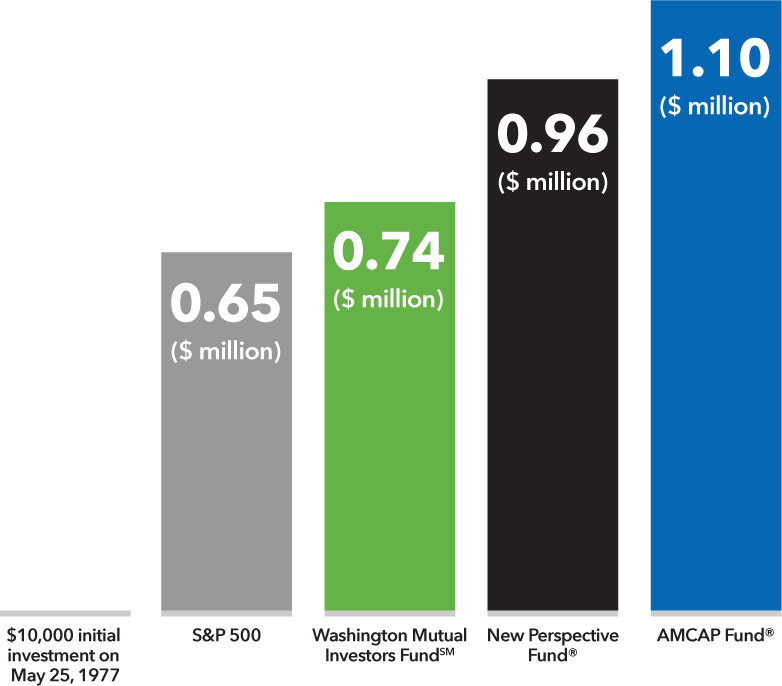 The Cost of Living Moves Quickly
The cost of a movie ticket and many other goods and services have increased dramatically in the past 38 years. The power of compounding can help you offset inflation with the income you'll need in retirement.
---
Sources: Movie ticket price for 1977 from The Florida Times-Union, "Star Wars by the Numbers" and for 2015 from The Hollywood Reporter, "Average Movie Ticket Price Hits Record High." Family car price for 1977 from Federal Reserve Board and for 2015 from Kelley Blue Book, "New-Car Transaction Prices Rise Steadily, Up 2.6 Percent in April 2015, According to Kelley Blue Book." New single family home prices from United States Census Bureau. Tuition and fees prices from The College Board, "Trends in College Pricing 2015." Health care costs for 1977 from Centers for Disease Control and Prevention, "Health-United States" and for 2015 from The Commonwealth Fund, "The U.S. Spends More on Health Care Than Other High-Income Nations But Has Lower Life Expectancy, Worse Health."
Figures shown are past results and are not predictive of results in future periods. Current and future results may be lower or higher than those shown. Share prices and returns will vary, so investors may lose money. Investing for short periods makes losses more likely.
The market index is unmanaged and, therefore, has no expenses. Investors cannot invest directly in an index.
Returns with sales charge for Class A shares reflect payment of the 5.75% maximum sales charge.