Offer two funds to cover the waterfront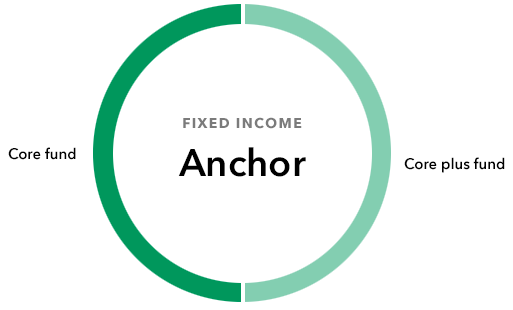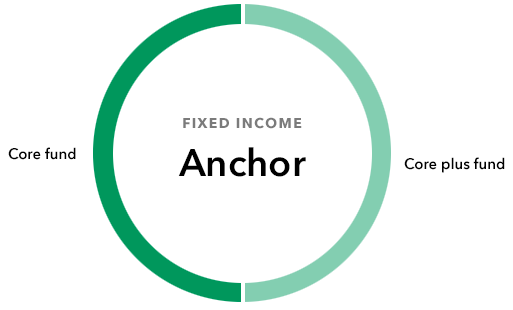 We believe it's important to anchor the fixed income menu with a core and a core plus fund that can collectively support the four critical roles of fixed income.






Make sure your core fund provides real diversification
A core bond fund needs to provide balanced exposure to Treasuries, mortgages and investment-grade credit. Historically, broad U.S. bond market exposure has provided low correlation to equities, so it helps with diversification.
---
Source: Morningstar. As of August 30, 2018. Indexes are, for investment-grade credit (Bloomberg Barclays U.S. Credit Index), high yield (ICE Bank of America Merrill Lynch U.S. High Yield Index), EM debt (J.P. Morgan Emerging Markets Bond Index Global), multi-asset (Morningstar Conservative Target Risk Index) and bank loan (S&P/LSTA Leveraged Loan Index).
The broad bond market has had negative equity correlation
Three-year correlation of bond indexes with S&P 500 Index
Avoid core bond funds that stretch for yield
Faced with a decade of low rates, many core funds have tilted toward credit to boost returns. As a result, these core funds have a higher correlation to equity and may not provide the stability participants want in a declining equity market.
Not all core bond funds provide the same diversification
10-year results of U.S. intermediate bond funds benchmarked to the broad bond index
Correlation with S&P 500
Ten-year return
---
Source: Morningstar. As of September 30, 2018. Funds were those in the Morningstar Intermediate-Term Bond category whose prospectus benchmark was Bloomberg Barclays U.S. Aggregate Index. Fund results are based on oldest share class.
Expand the opportunity set with core plus
A core plus fund provides higher total return potential through investments with greater credit exposure, like high yield and emerging markets debt. Before selecting a fund, understand a core plus manager's risk management approach.

This article illustrates the number and type of funds that a plan might offer; it does not describe participants' asset allocations.